Whiplash St. Augustine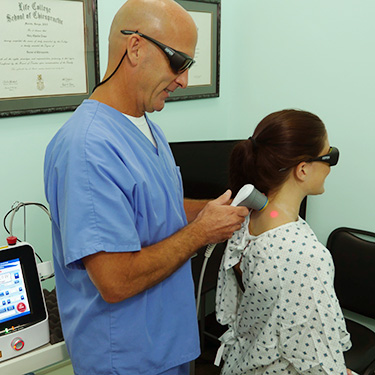 Most people have heard of whiplash. But do you know what happens when you have this condition? It is the result of a soft tissue injury in the neck area of your spine. It's common when the head is quickly forced forward, backward or both, making it most often due to motor vehicle accidents. You may not even realize that you have a whiplash injury. Over time, the signs begin to show.
This type of strain on your spine can also be the results of a physical trauma or a sports injury. At CHIRO & LASER Pain Relief Center of St. Augustine, we have the solutions to address your pain.
The Symptoms of Whiplash
If you have whiplash, you may experience any of the following
Blurred vision
Difficulty swallowing
Dizziness
Fatigue
Irritability
Low back pain and stiffness
Nausea
Neck pain and stiffness
Numbness or tingling
Pain between your shoulder blades
Pain in your arms, legs, feet or hands
Pain in your jaw or face
Ringing in the ears
Vertigo
How We Can Help With Laser Therapy
If you are suffering from whiplash St. Augustine, we may recommend addressing it with our Class IV laser. This technology reduces inflammation and pain while enhancing your healing capabilities. By reducing neuronal impulses and increasing your endorphin release, your pain will be diminished. The inflammatory factors and edema are reduced. When blood flow improves, cytokines are reduced and collagen production and fibroblast activity increase, your healing is accelerated.
Schedule Your First Visit
Learn more or book your first appointment with us. Contact CHIRO & LASER Pain Relief Center of St. Augustine today!
CONTACT US »


Whiplash Laser Therapy St. Augustine, FL | (904) 460-2923