Plantar Fasciitis St. Augustine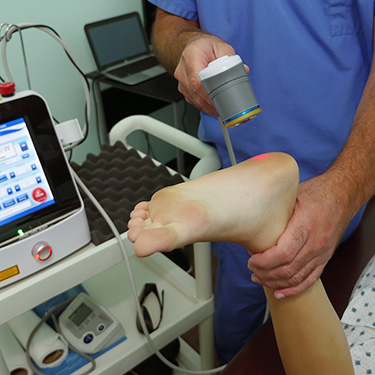 Plantar fasciitis is a painful foot condition that affects the plantar fascia. The plantar fascia is the strong, connective tissue that is located on the sole of your foot. It supports your arch, runs along the bottom of your foot and connects your heel bone to your toes.
The Symptoms of Plantar Fasciitis
If you have plantar fasciitis, you likely feel discomfort on the bottom of the foot near your heel. Inflammation is the cause of plantar fasciitis. If left untreated, plantar fasciosis can develop. Plantar fasciosis is a degenerative condition that includes micro-tears and the cell death of the plantar fascia.
The most common cause of heel pain is plantar fasciitis. It affects two million people every year and is especially frequent in runners. The symptoms include
Pain located in the foot arch or the outside of the foot
Redness and swelling in the affected area
Sharp pain or tenderness in the heel
Symptoms that worsen when waking and getting out of bed or up from a chair
Weakness when walking
The Cause of Plantar Fasciitis
Plantar fasciitis is due to wearing improper shoes, excessive running, or standing on hard surfaces for extended periods of time.
How Our Laser Can Help You
Our advanced Class IV laser will reduce pain, inflammation and accelerate your body's healing power. The neuronal impulses are diminished while endorphins are released, reducing your pain levels. The inflammatory factors will be lessened and lymphatics dilating, which result in reduced inflammation and edema. Your healing is accelerated thanks to an increased blood flow, which stimulates collagen production, fibroblast activity and releases cytokines.
Learn More About Healing With Our Laser Therapy
Would you like to learn more about how we can help plantar fasciitis St. Augustine? Contact CHIRO & LASER Pain Relief Center of St. Augustine!
CONTACT US »


Plantar Fasciitis Laser Therapy St. Augustine | (904) 460-2923